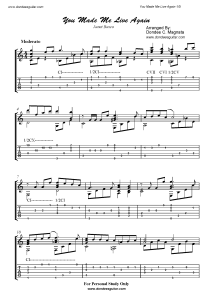 Guitar Arrangement: You Made Me Live Again Fingerstyle Guitar
The song "You Made Me Live Again" is rendered by Ms. Janet Basco and is one of the beautiful classic Original Pilipino Music. The song has lovely tunes and meaningful lyrics, that is why You Made Me Live Again is an all-time favorite OPM song.
I was down and out and feelin' so low
You took my hand and eased my mind
I was astray you showed me the way
And now I finally found my home in you

I still recall the times I've been through
Confused and I didn't know what to do
I almost gave up but you gave me hope
You've made me strong as the days went on
You made me live again
The original key of the song is in the key of D major, but to make the song more playable on the guitar, I created the arrangement in the C major key. Anyway, for those of you who would like to try the arrangement on D major, you just put a capo on the second fret and play the song according to my arrangement.
With regards to Capo, and for those of you who are new to guitar, capo is a guitar tool to help the player to play a certain key or chord while playing it on basic chord.
To mention an example, when you want to play D Major chord in the form of C Major chord, then you just have to put capo on the second fret and finger the usual C major chord.
Furthermore and with regards to this arrangement, I think the challenging part is the intro; wherein you have to play full barre on the 7th, 6th, and 5th fret.

Then you have to shift to a half barre on the 10th fret.

Anyway, give this one a try. Listen to the audio first then play it according on your own style.
Thank you for visiting my website and I hope you will enjoy this OPM song You Made Me Live Again Fingerstyle Guitar by Janet Basco. You can get below your copy of the complete transcriptions with tabs and notations with the video sheet music.
You may also like my arrangement of Closer You And I by Gino Padilla. And don't forget to visit and subscribe on my YouTube Channel.
FREE Guitar Sheet Music With Tabs:
To get your free copy of the arrangement, you may do the following:
* For desktop computer, right-click and choose "Save as Picture"
* For mobile devices like smart phone or tablets, tap on the image then choose "Save Image"