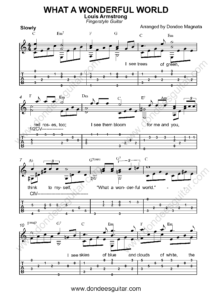 Guitar Arrangement: What A Wonderful World Fingerstyle Tabs

Artist: Louis Armstrong
In a world filled with hustle and bustle, it's easy to overlook the simple wonders that make life truly beautiful. "What a Wonderful World," the timeless song by Louis Armstrong, gently reminds us to pause and appreciate the magic around us.
With a soulful melody and heartfelt lyrics, Armstrong's masterpiece celebrates the beauty of everyday moments. From the vibrant colors of a rainbow to the warmth of a summer day, the song paints a vivid picture of the wonders that surround us. It's a musical journey that invites us to see the world through the lens of gratitude.
As the soothing notes play, we're reminded of the power of love and the joy found in a friendly smile. The song's simplicity is its strength, offering a poignant reminder that beauty is often found in the small, ordinary things.
In a world that can sometimes feel confusing, "What a Wonderful World" stands as a gentle anthem, encouraging us to cherish the magnificence of life. So, take a moment to get your guitar and play with its beautiful melody, and let the song's timeless wisdom fill your heart with appreciation for the wonderful world we live in.
Keep your self updated on my latest easy and simplified fingerstyle arrangements of popular songs by subscribing on my YouTube Channel: 

Song Lyrics:
I see trees of green
Red roses too
I see them bloom
For me and you
And I think to myself
What a wonderful world

I see skies of blue
And clouds of white
The bright blessed day
The dark sacred night
And I think to myself
What a wonderful world

The colors of the rainbow
So pretty in the sky
Are also on the faces
Of people going by
I see friends shaking hands
Saying, "How do you do?"
They're really saying
"I love you"

I hear babies cry
I watch them grow
They'll learn much more
Than I'll never know
And I think to myself
What a wonderful world

Yes, I think to myself
What a wonderful world

Oh yeah
Thank you for visiting the website. Again, I would like to encourage you to subscribe to my YouTube Channel if you like more easy and simplified fingerstyle guitar arrangement with tabs. You may subscribe by clicking here: 

Below is the complete notation with tablatures of What A Wonderful World Fingerstyle Guitar Tabs by Louis Armstrong. You may also like my arrangement of the song In My Life Fingerstyle Guitar Tabs by The Beatles.
FREE Guitar Sheet Music With Tabs:
To get your free copy of the arrangement, you may do the following:
* For desktop computer, right-click and choose "Save as Picture"
* For mobile devices like smart phone or tablets, tap on the image then choose "Save Image"