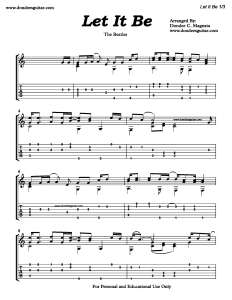 Guitar Arrangement: Let It Be Fingerstyle Tabs
The song Let It Be is one of the most popular songs of the legendary band The Beatles. It was composed and sung by Paul McCartney and served as the final single before McCartney decided to leave the group. Let It Be is released in March 1970 and at that time, the song had the highest debut in Billboard Hot 100 reaching number 6.
Let It Be is inspired from McCartney's dream about his mother during the course of their White Album in 1968. According to him, the words "Mother Mary" is referring to his mother and not from biblical reference. However, he also told the fans that they can interpret the message of the song in any way they would like.
Several artists covered Let It Be in their own musical style. Some of these artists are Joe Cocker, John Denver and Ray Charles. In recent years, Let It Be was performed by many aspiring contestants in The Voice and X Factor Series. TV shows and Musicale like Glee was also cited to cover the song Let It Be. (Source: Wikipedia)
When I find myself in times of trouble
Mother Mary comes to me
Speaking words of wisdom, let it be
And in my hour of darkness
She is standing right in front of me
Speaking words of wisdom, let it be
The song has great impact for music lovers since then. Even though many years has passed since the recording of Let It Be, still people love the catchy melody lines and meaningful lyrics of the song.
DondeesGuitar made a fingerstyle interpretation of this wonderful song Let It Be. This arrangement is adapted on the original piano score. The song's key signature is in C Major.
You can get below your copy of the complete transcriptions with tabs and notations of Let It Be Fingerstyle Tabs. I hope you'll like this arrangement. You may also like Imagine by John Lennon arranged for the Fingerstyle Guitar. Thank you for visiting.
FREE Guitar Sheet Music With Tabs:
To get your free copy of the arrangement, you may do the following:
* For desktop computer, right-click and choose "Save as Picture"
* For mobile devices like smart phone or tablets, tap on the image then choose "Save Image"