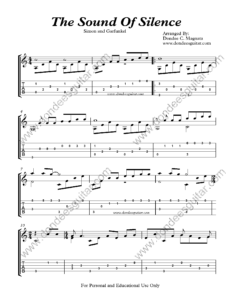 Guitar Arrangement: The Sound Of Silence Fingerstyle Tabs
"The Sound Of Silence" is song popularized by Simon and Garfunkel during the 1960's. The song is well-known because of its meaningful lyrics that discusses several issues during that time. The song was also covered by several artist and been used for different projects as theme song. On December 07, 2015 heavy metal band Disturbed released their cover that hit a million views on YouTube and digital downloads.
Hello darkness, my old friend
I've come to talk with you again
Because a vision softly creeping
Left its seeds while I was sleeping
And the vision that was planted in my brain
Still remains
Within the sound of silence
In restless dreams I walked alone
Narrow streets of cobblestone
'Neath the halo of a streetlamp
I turned my collar to the cold and damp
When my eyes were stabbed by the flash of a neon light
That split the night
And touched the sound of silence
And in the naked light I saw
Ten thousand people, maybe more
People talking without speaking
People hearing without listening
People writing songs that voices never share
No one dare
Disturb the sound of silence
"Fools" said I, "You do not know
Silence like a cancer grows
Hear my words that I might teach you
Take my arms that I might reach you"
But my words like silent raindrops fell
And echoed in the wells of silence
And the people bowed and prayed
To the neon god they made
And the sign flashed out its warning
In the words that it was forming
And the sign said "The words of the prophets
Are written on the subway walls
And tenement halls
And whispered in the sounds of silence"
Thank you for visiting my website and I hope you will enjoy this The Sound Of Silence Fingerstyle Tabs by Simon and Garfunkel. You can get below your copy of the complete transcriptions with tabs and notations with the video sheet music.
You may also like my arrangement of Honesty by Billy Joel. And don't forget to visit and subscribe on my YouTube Channel
FREE Guitar Sheet Music With Tabs:
To get your free copy of the arrangement, you may do the following:
* For desktop computer, right-click and choose "Save as Picture"
* For mobile devices like smart phone or tablets, tap on the image then choose "Save Image"