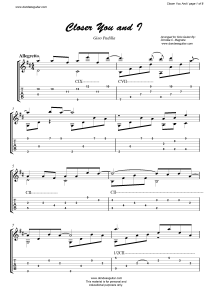 Guitar Arrangement: Closer You And I Fingerstyle Tabs
One of well-loved Original Pilipino Music is the song "Closer You and I" by Gino Padilla. The song was a hit during 80s and then used as tv commercial jingle of Close Up. The song was included in Gino's Shifting Gears album, and in fact got an Awit Award as record and song of the year.
The closer I get to touching you
The closer I get to loving you
Give it a time
Just a little more time
We'll be together

Every little smile
That special smile
The twinkle in your eye
In a little while
Give it a time
Just a little more time
So we can get closer
You and I..
Today, several years have passed,  "Closer You and I" is still a refreshing tunes everytime it is played on radio or in any functions. People are always  captivated by the catching  tunes and rich harmony of the song. It is also very popular on events such as weddings.
Now, let us try to play Closer You and I on fingerstyle guitar. The arrangement that I did here is in the key of A major. I chose A major to give us the open strings and to allow us hit the low and high notes of the song. So that the guitar can adapt to the melody line and accompaniment.
The Closer You And I Fingerstyle Tabs arrangement is somehow in advanced level because the player is required to do a lot of shifting, barres and stretching from different frets. Though all positioning is derived from the base chords like A and B minor, therefore the song is easier for those positional players.
FREE Guitar Sheet Music With Tabs:
To get your free copy of the arrangement, you may do the following:
* For desktop computer, right-click and choose "Save as Picture"
* For mobile devices like smart phone or tablets, tap on the image then choose "Save Image"