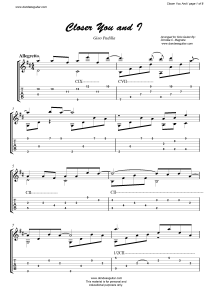 Original Pilipino Songs or OPM Fingerstyle Guitar Tabs are songs made by talented Filipino composers. Among the great composers are Ryan Cayabyab, Vehnee Saturno, Jose Mari Chan, Louie Ocampo and many others. Their work on Philippine music industry has become the foundation of OPM. From sentimental love songs to rock and dance, OPM got it all.
OPM songs also become a charming Fingerstyle guitar pieces because of its beautiful melody lines specially the OPM Love Songs. To give tribute on the OPM songs, DondeesGuitar has arranged  four notable OPM songs. Hope you will enjoy this arrangements.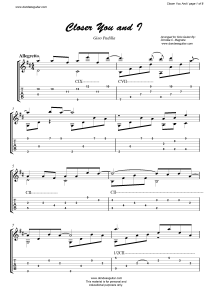 Artist: Gino Padilla
One of well-loved Original Pilipino Music is the song "Closer You and I" by Gino Padilla. The song was a hit during 80s and then used as tv commercial jingle of Close Up. The song was included in Gino's Shifting Gears album, and in fact got an Awit Award as record and song of the year.
The closer I get to touching you
The closer I get to loving you
Give it a time
Just a little more time
We'll be together.. more>>

2. If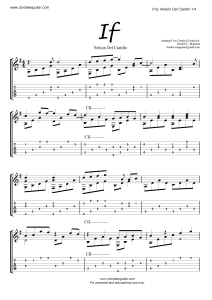 Artist: Nelson Del Castillo
During 90s, Nelson Del Castillo, a Filipino singer and song writer became popular for his song "If". A song with lovely melody and rich piano accompaniment. And a song that Nelson created for his wife.
If you see that love shine through
Don't be afraid to show me that you care
And I will take all the doubts in you
And show you what to do
And find a way to make you feel
That I am here ready to show you the way.. more>>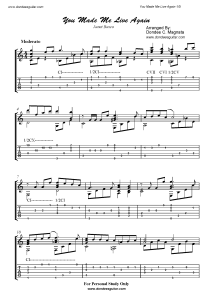 Artist: Janet Basco
The song "You Made Me Live Again" is rendered by Ms. Janet Basco and is one of the beautiful classic Original Pilipino Music. The song has lovely tunes and meaningful lyrics, that is why You Made Me Live Again is an all-time favorite OPM song.
I was down and out and feelin' so low
You took my hand and eased my mind
I was astray you showed me the way
And now I finally found my home in you.. more>>

Artist: Gary Valenciano
The song "How Did You Know" is one of the familliar love song in the Philippines and rendered by different artists. But the famous version is the Garry Valenciano, since it was used for a movie theme.
How did you know
I needed someone like you in my life
That there was an empty space in my heart
You came at the right time in my life
I'll never forget.. more>>
Thank you for visiting my website and I hope you will enjoy the arrangements here including this OPM Fingerstyle Guitar Tabs. Visit this website frequently as I will be updating the list of songs with familiar songs and songs arranged for the fingerstyle guitar. Please subscribe also to my YouTube Channel for more video sheet music and tutorials.