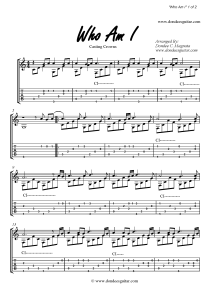 Guitar Arrangement: Who Am I Fingerstyle Tabs
In February 22, 2004, the band Casting Crowns, a Christian Rock band with Mark Hall as the lead vocalist, released the song Who Am I". And one of the producers of the song is Steven Curtis Chapman who popularized the song I Will Be Here.
Who Am I  is a pop rock song with meaningful lyrics about worshiping God. The song is widely popular and has been used as theme and background song in Christian functions. As it received positive reviews from listeners,  during the 36th GMA Dove Awards, the song became the Song Of The Year and Pop/Contemporary Recorded Song of the Year; it was also nominated for Worship Song of the Year.
Who am I, that the Lord of all the earth
Would care to know my name,
Would care to feel my hurt?
Who am I, that the Bright and Morning Star
Would choose to light the way
For my ever wandering heart?

Not because of who I am
But because of what You've done.
Not because of what I've done
But because of who You are.

I am a flower quickly fading,
Here today and gone tomorrow.
A wave tossed in the ocean.
A vapor in the wind.
Still You hear me when I'm calling.
Lord, You catch me when I'm falling.
And You've told me who I am.
I am Yours, I am Yours.
Thank you for visiting my website and I hope you will enjoy this Who Am I Fingerstyle Tabs by Casting Crown. You can get below your copy of the complete transcriptions with tabs and notations with the video sheet music.
You may also like my arrangement of River Flows In You by Yiruma. And don't forget to visit and subscribe on my YouTube Channel
FREE Guitar Sheet Music With Tabs:
To get your free copy of the arrangement, you may do the following:
* For desktop computer, right-click and choose "Save as Picture"
* For mobile devices like smart phone or tablets, tap on the image then choose "Save Image"