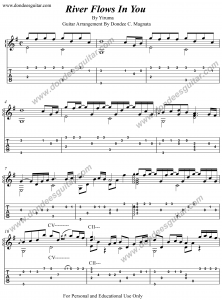 "In 2001, he released his most popular album to date, First Love. His No. 1 selling piece "River Flows in You", written in A Major, was on this album, and since 2001 this piece has been released on two other albums (First Love [Repackaged] and Wedding Essentials: The Ceremony). Yiruma released his third album, From The Yellow Room in 2003. Pre-order sales topped 30,000 copies, and the album was top-ranked on many popular music charts, including Yes24, Phono, and Hot Tracks. His 12-city Korean tour was a sellout, as well as his November concert at the Seoul National Arts Center.
His composition 'River Flows in You' was selected by fans of The Twilight Saga to serve as 'Edward's Lullaby' prior to the release of the first film. Fan pressure was so strong that the piece was included in the soundtrack of the later film, Eclipse. The piece is still heavily circulated, and has seen a surge in popularity with the release of the fifth book in the saga, Midnight Sun." (Wikipedia)
This is my Guitar arrangement of Yiruma's River Flows In You Fingerstyle Guitar Tab in G Major. Originally, the songs was written in A Major, and to simplify the guitar arrangement, I decided to arrange it in G Major so that the melody and high notes can be played accordingly on the guitar.
I hope you enjoy this arrangement.
Digital Download: Printable PDF without the watermarks.

FREE Guitar Sheet Music With Tabs:
To get your free copy of the arrangement, you may do the following:
* For desktop computer, right-click and choose "Save as Picture"
* For mobile devices like smart phone or tablets, tap on the image then choose "Save Image"