Guitar Arrangement: Payphone Fingerstyle Tabs
In 2012, Maroon 5 released the Overexposed album and one of the singles from the album that made great acceptance from music lovers is the song "Payphone". It is a collaboration song from Maroon 5 and American rapper Whiz Khalifa. The song is a pop-ballad with Whiz's hip-hop style.
I'm at a payphone trying to call home
All of my change I spent on you
Where have the times gone? Baby, it's all wrong
Where are the plans we made for two?

Yeah, I, I know it's hard to remember
The people we used to be…
It's even harder to picture,
That you're not here next to me.

You say it's too late to make it,
But is it too late to try?
And in our time that you wasted
All of our bridges burned down
I have here my guitar arrangement of Payphone with the key of B Major. I know that B major key is not a friendly-guitar key because of its expected full barres on the 7th fret, but I found that B major is the only key to preserve the melody and structure of Payphone.
And so as expected, you will encounter several 7th fret full barre as you play the song: The intro and chorus.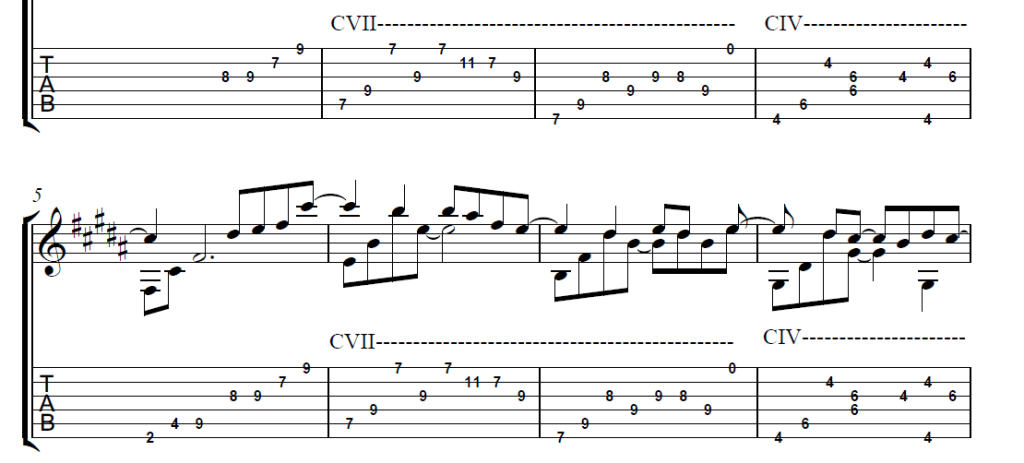 As you may noticed, the song can be played with the capo on the 2nd or 4th fret. That is true and by doing so, the player can have ease on the shifting of full barres. But I choose to play the song without the capo, because I'd like to have the open E bass string. And I think it gives more harmony on the song.
Anyway, as I always say, try your best grip.
Thank you for visiting my website and I hope you will enjoy this Payphone Fingerstyle Tabs by Maroon 5. You can get below your copy of the complete transcriptions with tabs and notations with the video sheet music.
You may also like my arrangement of When I Was Your Man by Bruno Mars. And don't forget to visit and subscribe on my YouTube Channel
FREE Guitar Sheet Music With Tabs:
To get your free copy of the arrangement, you may do the following:
* For desktop computer, right-click and choose "Save as Picture"
* For mobile devices like smart phone or tablets, tap on the image then choose "Save Image"