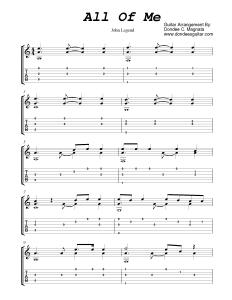 Guitar Arrangement: All Of Me Fingerstyle Tabs
In August 2013, John Legend became widely popular because of his single All Of Me from the studio album "Love In The Future". The music critics and lovers gave positive feedback on the song that gave way to All Of Me worldwide recognition.
The song is rich on lovely melody and meaningful lyrics which portrays deep love for a girl. Certainly, it is Legend's way to show his affection to his wife Chrissy Teigen, as his inspiration during the creation of his song.
All Of Me is a slow piano accompanied song flavored with soulful voice of John Legend. The original key of this song is in the key of Ab; definitely, the key is not suitable for the guitar fingerstyle. And so, DondeesGuitar arranged and transposed the song into the key of C Major that gives guitar player more ease during rendition.
Lyrics:
Verse:
What would I do without your smart mouth
Drawing me in, and you kicking me out
You got my head spinning, no kidding, I can't pin you down
What's going on in that beautiful mind
I'm on your magical mystery ride
And I'm so dizzy, don't know what hit me, but I'll be alright
Bridge:
My head's underwater
But I'm breathing fine
You're crazy and I'm out of my mind
Chorus:
'Cause all of me
Loves all of you
Love your curves and all your edges
All your perfect imperfections
Give your all to me
I'll give my all to you
You're my end and my beginning
Even when I lose I'm winning
Cause I give you all of me
And you give me all of you, oh
Verse:
How many times do I have to tell you
Even when you're crying you're beautiful too
The world is beating you down, I'm around through every mood
You're my downfall, you're my muse
My worst distraction, my rhythm and blues
I can't stop singing, it's ringing in my head for you
Repeat Bridge & Chorus
Thank you for visiting my website. Below you can find the complete transcription of All Of Me Fingerstyle Tabs with Video Sheet Music.
FREE Guitar Sheet Music With Tabs:
To get your free copy of the arrangement, you may do the following:
* For desktop computer, right-click and choose "Save as Picture"
* For mobile devices like smart phone or tablets, tap on the image then choose "Save Image"