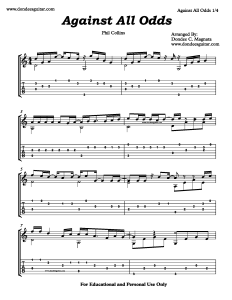 Against All Odds Fingerstyle Tabs
Phil Collins is a prolific songwriter, singer and drummer. In 1984, he was asked to write a song for a movie titled "Against All Odds". While he was on a tour during that time, he viewed the movie on a videocassette recorder and eventually agreed to become part of the movie soundtrack. He then created the song with the same title as the movie.
The song got positive feedback from music critics that it then reached the number one spot of Billboard Hot 100 in the United States. Several artists like Westlife and Mariah Carey rendered the song in their own musical style which also gathered good response from music fans.
The power ballad song won the Grammy Award in 1985 for the Best Vocal Performance – Male Category. It was also nominated as Best Original Song for Academy Award and Golden Globe Award. Since then, due to its popularity, Against All Odds was also used as theme song on different movies and TV shows. (Source: Wikipedia)
Now, this is DondeesGuitar interpretation of Against All Odds in the fingerstyle guitar. This is an easy guitar arrangement in the key of C Major.
Lyrics:
How can I just let you walk away,
Just let you leave without a trace?
When I stand here taking every breath with you, ooh
You're the only one who really knew me at all

How can you just walk away from me
When all I can do is watch you leave?
'Cause we've shared the laughter and the pain
And even shared the tears
You're the only one who really knew me at all

So take a look at me now
'Cause there's just an empty space
And there's nothing left here to remind me
Just the memory of your face
Take a look at me now

Well there's just an empty space
And you coming back to me is against the odds
And that's what I've got to face, oh

I wish I could just make you turn around
Turn around and see me cry
There's so much I need to say to you
So many reasons why
You're the…

Enjoy this Against All Odds Fingerstyle Tabs that I arranged for both beginner and advance guitar player. Thank you for visiting my website.
Digital Download: Printable PDF without the watermarks.

FREE Guitar Sheet Music With Tabs:
To get your free copy of the arrangement, you may do the following:
* For desktop computer, right-click and choose "Save as Picture"
* For mobile devices like smart phone or tablets, tap on the image then choose "Save Image"