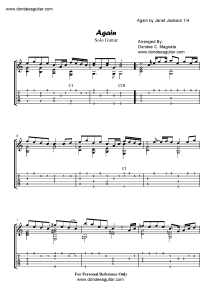 Arrangement: Again Fingerstyle Guitar Tabs
"Again" is a sentimental song from Janet Jackson and was heard in the artist's debut film Poetic Justice in 1993. In the same year, the song topped the Billboard Hot 100 in the US and received a Golden Globe and Academy Award nominations for Best Original Song.
The beauty of this song lies on its melody and simple chord progression with the C major key. Being with the C major, this song became adaptable from piano to the guitar with straight forward transcriptions.
Lyrics:
I heard from a friend today
And she said you were in town
Suddenly the memories came back to me in my
Mind

[CHORUS] How can I be strong I've asked myself
Time and time I've said
That I'll never fall in love with you again

A wounded heart you gave
My soul you took away
Good intentions you had many
I know you did

I come from a place that hurts
And God knows how I've cried
And I never want to return
never fall again

Making love to you
Oh it felt so good and
Oh so right

[CHORUS] So here we are alone again'
Didn't think it'd come to this
And to know it all began
With just a little kiss

I've come too close to happiness
To have it swept away
Don't think I can take the pain
No never fall again

Kinda late in the game and my heart is in
Your hands
Don't you stand there and then
Tell me you love
Me then leave again
Cause I'm falling in love with
You again

Hold me
Hold me
Don't ever let me go
Say it just one time
Say you love me
God knows I do
Love you
Again
Below is my Again Fingerstyle Guitar Tabs. This is very easy arrangement for the guitar that every beginner for the Fingerstyle Guitar playing will find this sheet music a valuable one on their repertoire.
Digital Download: Printable PDF without the watermarks.

FREE Guitar Sheet Music With Tabs:
To get your free copy of the arrangement, you may do the following:
* For desktop computer, right-click and choose "Save as Picture"
* For mobile devices like smart phone or tablets, tap on the image then choose "Save Image"