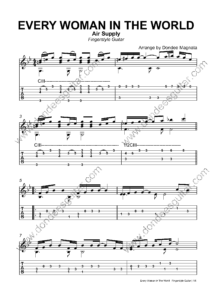 Guitar Arrangement: Every Woman In The World Fingerstyle Tabs
Artist: Air Supply
Keep your self updated on my latest easy and simplified fingerstyle arrangements of popular songs by subscribing on my YouTube Channel: 

Lyrics:
Overnight scenes, dinner and wine
Saturday girls
I was never in love, never had the time
In my hustle and hurry world
Laughing myself to sleep
Waking up lonely
I needed someone to hold me oh oh oh

It's such a crazy old town
It can drag you down
Till you run out of dreams
So you party all night to the music and lights
But you don't know what happiness means
I was dancing in the dark with strangers
No love around me
When suddenly you found me oh oh oh

Girl you're every woman in the world to me
You're my fantasy, you're my reality
Girl you're every woman in the world to me
You're everything I need, you're everything to me
Oh girl

Everything good, everything fine
That's what you are
So put your hand in mine
And together we'll climb
As high as the highest star
I'm living a lifetime in every minute
That we're together
And I'll stay right here forever oh oh oh
Thank you for visiting the website. Again, I would like to encourage you to subscribe to my YouTube Channel if you like more easy and simplified fingerstyle guitar arrangement with tabs. You may subscribe by clicking here: 

Below is the complete notation with tablatures of  Every Woman In The World Fingerstyle Tabs by Air Supply. You may also like my arrangement of the song Two Less Lonely People Fingerstyle Guitar Tabs also by Air Supply.
FREE Guitar Sheet Music With Tabs:
To get your free copy of the arrangement, you may do the following:
* For desktop computer, right-click and choose "Save as Picture"
* For mobile devices like smart phone or tablets, tap on the image then choose "Save Image"