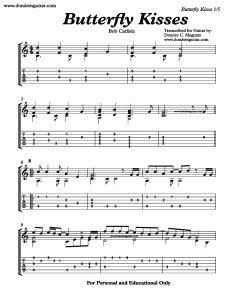 Arrangement: Butterfly Kisses Fingerstyle Tabs
This song has been a favorite father-daughter dance song in a wedding reception or 18th birthday celebration. Probably because of its meaningful lyrics and enchanting melody that captivates on special occasions.
The song is written by Bob Carlisle and Randy Thomas from the April 1997 released album Butterfly Kisses (Shades of Grace). It was written by Carlisle for his daughter 16th birthday that inspires the lyrics of the entire song.
"Butterfly Kisses" is the only chart single of Bob Carlisle. However, the song became a major radio hit and reached the top 10 of Hot 100 Airplay in the US. The song also achieved the number-one single spot on Adult Contemporary chart and received Song of the Year at Dove Award.
Since the release of Butterfly Kisses in 1997, the song was rendered by different great artists and group like Westlife, Cliff Richard, Jeff Carson and Raybon Brothers.
The song has beautiful melody that makes it a charming fingerstyle guitar piece. The original key is in C Major and it helps to have an easy guitar adaptation.
Something-To-Learn
The Tuplet
The musical term Tuplet is an irrational or irregular rhythm of a composition that involves dividing the beat into a different number of equal subdivisions from that usually permitted by the time-signature.
This is indicated by a number or sometimes two, indicating the fraction involved. The notes involved are also often grouped with a bracket or (in older notation) a slur. The most common type is the "triplet". (source: Wikipedia)
When playing in the guitar, triplet is something that you have to play in a sudden or fast manner compared to the usual tempo of the song. It is like picking the string twice as fast as the regular speed depending on the number of notes indicated in the tuplet.
Thank you for visiting the website. Below is your copy of the Butterfly Kisses Fingerstyle Tabs. enjoy this arrangement.
FREE Guitar Sheet Music With Tabs:
To get your free copy of the arrangement, you may do the following:
* For desktop computer, right-click and choose "Save as Picture"
* For mobile devices like smart phone or tablets, tap on the image then choose "Save Image"